Algonquin Guesthouse
23 Marie Street, South River, Ontario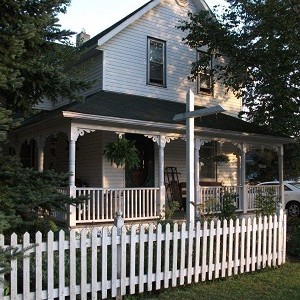 Situated in the Village of South River the "Paddling Entrance to Algonquin Park our two Century homes and Art Gallery are surrounded by herbal and edible forest gardens. Cafes, grocery stores, fitness centre, library, restaurants, are all within walking distance and a 24 hour laundry mat is a five minute drive away.
Whether you are heading in to Algonquin Park for a camping adventure or looking for a memorable day-trip paddling the beautiful lakes and rivers of the region, come and enjoy our affordable accommodations. Our rooms are reminiscent of days gone by where encaustic (beeswax) art, functional antiques and sustainable living reflect owner/artist Brenda Scott's lifestyle. We offer communal kitchen, outside barbecue, fire pit, dining tent and porches for relaxing and sharing stories with new friends from around the world. Brenda is an avid kayaker and can direct you to more than 30 nearby launch sites for beginner to advanced kayakers.
Artist in the Garden Workshops ensure that rain or shine your holiday will be spectacular.