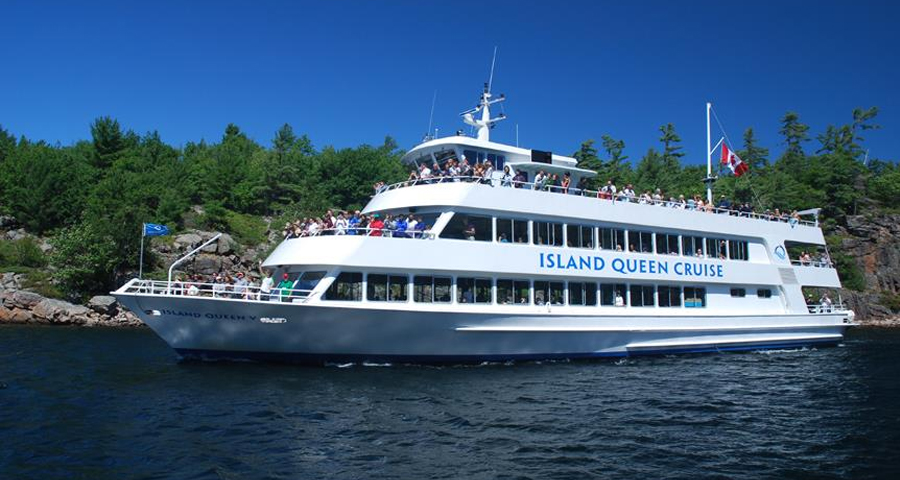 All Aboard for Music on the Island Queen Cruise in Parry Sound This Summer
Wonderful music, stunning scenery, and a dreamy time on Georgian Bay.
The Festival of The Sound is best known for presenting Canada's favourite two-week classical summer music series at the Charles W. Stockey Centre for the Performing Arts in Parry Sound, Ontario. But did you know? Now in its fourth decade of delivering exceptional concerts, the company also delights audiences annually with a series of eclectic performances aboard the Island Queen Cruise out of Parry Sound harbour.
Blues, jazz, country, bluegrass, rock and Celtic tunes can all be enjoyed aboard the ship while touring stunning Georgian Bay – the perfect backdrop for listening to your favourite tunes. Five concerts featuring exceptional musicians take place this summer, with the kick off on July 1st!
Celebrate Canada Day with great music, great friends, great scenery, and a spectacular fireworks display happening at the harbour as the boat heads back to dock.
Check out concert details below and book your tickets for the Festival of the Sound's musical cruises aboard the Island Queen Cruise in summer 2022.
Jeff Young & The Muskoka Roads Band
Friday, July 1st: 7-10pm
Don't miss this very special three-hour cruise with Parry Sound-Muskoka's favourite live act. Guaranteed a rocking good time for July 1, wrapping up with a view of the fireworks from the water.
For more event details or to purchase your tickets click here.
Celtic Cruise with Poor Angus
Monday, July 11th: 6-8pm
Join popular quintet Poor Angus for a cruise that will tug at your Celtic heart strings. This dynamic and energetic band have wowed crowds across the country for years and are guaranteed to make your trip through the 30,000 Islands especially memorable.
For more event details or to purchase your tickets click here.
The Marigolds
Monday, July 18th: 6-8pm
Gwen Swick, Suzie Vinnick and Caitlin Hanford combine their wonderful talents to bring us The Marigolds! Part bluesy, part jazzy, and part traditional country and bluegrass, they specialize in angelic harmonies and gutsy playing. Delivered with skill and grace, The Marigolds are a roots-music supergroup in full bloom.
For more event details or to purchase your tickets click here.
Blues Cruise with Jackson Delta
Monday, July 25th: 6-8pm
Now in their 35th year, this multi-award winning acoustic blues trio is an instant crowd favourite wherever they go. They've brought out the boogie, and the smiles, from coast to coast to coast in Canada, Europe and the US. Rick Fines, Gary Peeples, and Al Black are veteran musicians with the rhythm that will get your soul dancing and your heart singing.
For more event details or to purchase your tickets click here.
The Dave Young Quartet
Sunday, July 31st: 6-8pm
Help us close out the 43rd Annual Festival of the Sound with perennial favourites, The Dave Young Quartet. This is a heavyweight line up of Canadian jazz greats: Dave Young, bass; Terry Clarke, drums; Brian Dickinson, piano; Reg Schwager, guitar. Dream your way through Georgian Bay in the luxurious hold of some of the best musicians Canada has ever produced
For more event details or to purchase your tickets click here.
For more information on the Festival of The Sound's summer 2022 line-up, CLICK HERE. To plan your stay, CLICK HERE.